Solving for X – Encouraging Students to Speak out Through Theater
By Meggan Gomez, Working Classroomy | March 15, 2017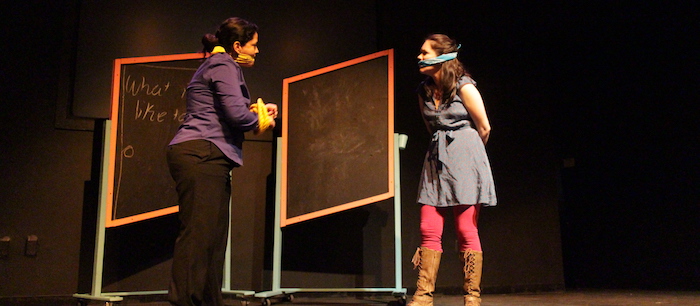 "The topics of less testing, more funding and better food all rank high. But so do vocational education, more individualized attention, and more time to socialize and be people together."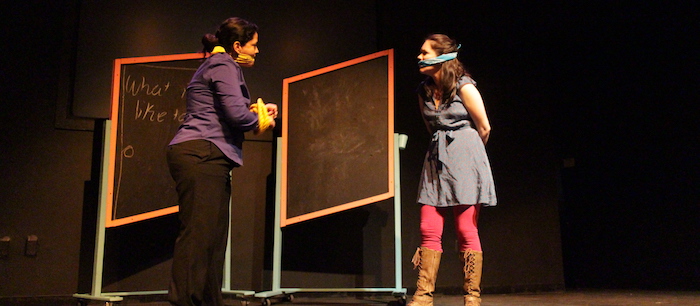 "The topics of less testing, more funding and better food all rank high. But so do vocational education, more individualized attention, and more time to socialize and be people together."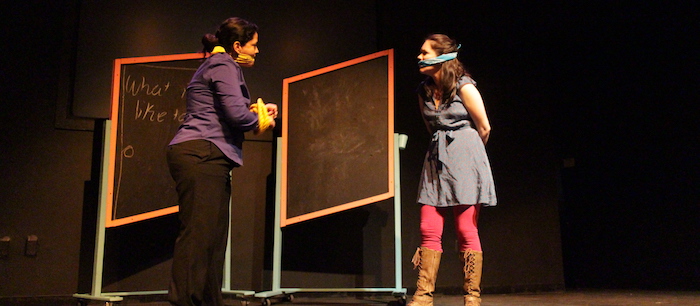 "The topics of less testing, more funding and better food all rank high. But so do vocational education, more individualized attention, and more time to socialize and be people together."
Imagine walking into a theater space and immediately being asked by a stranger to write down something you'd like to change about the public school system. Imagine then sitting down fora 50 minute whirlwind of questions, images, and emotions. Imagine being able to identify with at least one character so completely that you feel represented on the stage. This is the journey of Solving for X, a new play about educational equity in New Mexico, created in collaboration with The Working Classroom Theater Ensemble. 
As the Theater Conservatory Director at Working Classroom, it is my distinct honor to mentor a unique cohort of theater students ages 11 to 20. Most recently, mentorship has taken the form of producing a year-long project that involved training paid interns to interview a variety of educational stakeholders and research the topic of education both nationally and locally. Additionally, these interns plus the cast studied Moment Work with Scott Barrow of Tectonic Theater Project in New York and playwriting and devising with writer/ director Milta Ortiz of Borderlands Theater in Arizona.
By training for hundreds of hours, our cast has had the opportunity to bring the voices of the community into our creative space while simultaneously utilizing the play's platform to exercise our own voice. Our cast of 11, which ranged in age from 11 to over 30 were equal collaborators on our newest play and were able to experience firsthand what it means to be a part of the conversation, to have a seat at a table, and to be seen as professionals.

Solving for X addresses many of the issues our students deal with daily: the pressure of testing and preparing for college, traveling through an English system when Spanish is the language spoken at home, being a part of the LGBTQ population, poverty, addiction, learning disabilities and mental health. We did not attempt to tackle every issue, but rather created images that shed light on characters going through their own specific struggles. We did our best to encompass as many voices as possible, while never losing own voice in the process. 
Ultimately, what we want the audience to walk away with is the exact thing we are teaching our students at Working Classroom: that even though the system is challenging and flawed, there are opportunities to share your voice and advocate for yourself. The lessons and skills learned will carry on in each actor and everyone on the production team, including me, for years to come. We hope the same is true for the audience.
For the audience who has experienced this play, from the moment they are handed their first sticky note, we hope they too understand they are our collaborators, and the voice of our play. In the past week since our world premiere ended I have started organizing the post-it notes into categories. The topics of less testing, more funding and better food all rank high. But so do vocational education, more individualized attention, and more time to socialize and be people together.