Why I Led a Walkout Against Gun Violence for National Walkout Day - A High School Senior's Take
By Kenia Alonzo, Generation Justice, Media Justice Intern | March 29, 2018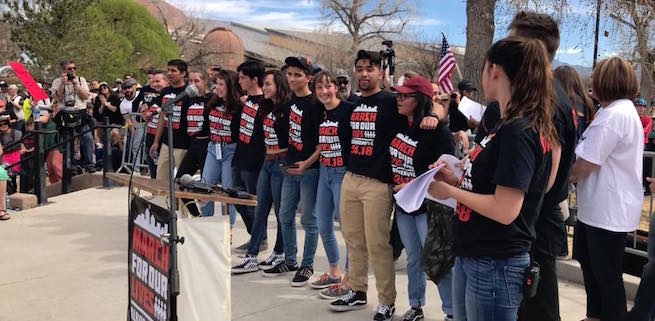 "I cried because I had to plan a walk out to say I didn't want to die at school. I cried because I, a student, had to take action because my government would not."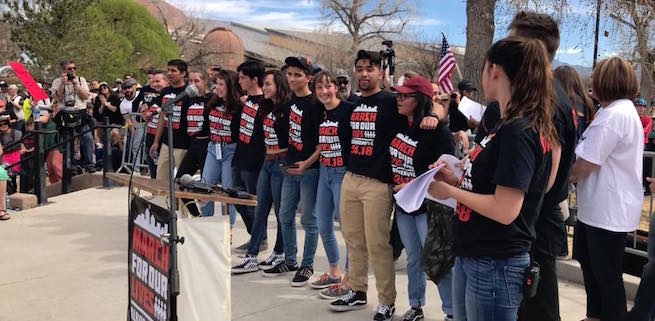 "I cried because I had to plan a walk out to say I didn't want to die at school. I cried because I, a student, had to take action because my government would not."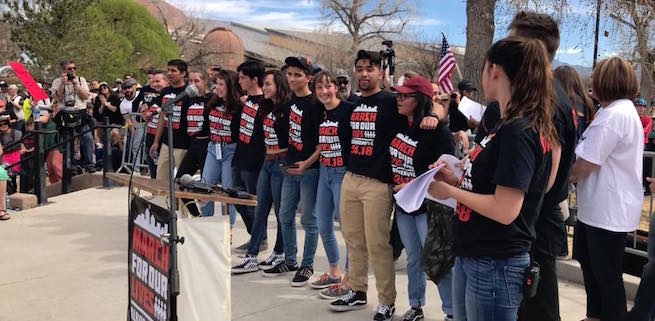 "I cried because I had to plan a walk out to say I didn't want to die at school. I cried because I, a student, had to take action because my government would not."
My name is Kenia Alonzo, I'm a Senior at Cibola High School and my number one fear is a school shooting. I have a plan if a gunman walks into my class. If it's 3rd period, I'll crawl out the window and up the dirt hill behind my portable, hoping he doesn't see me. If it's 5th period, I'll hide behind the metal cart with iPads inside, hoping that thin metal is enough to stop bullets. If it's in the hallway, I'll run to a nearby classroom and try not to cry. I shouldn't have to have a plan. I'm sick of having to have a plan but New Mexico's gun-death rate is 40 percent higher than the national average. Women and children are at a higher risk of becoming homicide victims in New Mexico than in almost all other states.
I am an activist and organizer. I've been an activist since I was twelve years old. I am a Generation Justice Media Justice Intern. Generation Justice is New Mexico's premiere, award-winning youth media project and they train youth to harness the power of media. I have been with Generation Justice for 3 and a half years, where I have been taught the essentials of message making and organizing. I was able to utilize all the knowledge and resources that Generation Justice has given me when I planned my high school walkout and when I participated in the organizing meetings for the Albuquerque March for Our Lives.
Four weeks after the Stoneman Douglas High School shooting, on March 14th, students across the country walked out of their classrooms to send a message to our government: Enough is enough. I assembled a small team of students from different grades to plan the walkout at my school. The team considered of Mariah (a Senior), Cat (a Junior), and Sophomores Kyler, Valentin, Jazmin, Tori, Angelica, and Aidan. We felt a deep obligation to show respect for the students that never came home from school and for the youth of our community who became victims of gun violence.
We had less than a week to plan, so we worked tirelessly and hoped for the best while planning for the worst. We made flyers, talked to the administration, and made social media accounts to spread the word. I adjusted the Generation Justice Code of Conduct to make it apply to our school walkout. Because this was Cibola's first walkout, we wanted to make sure we did it respectfully and efficiently. We had no room for error.
Finally, the day of the walkout came. I was nervous. Once we got outside, I saw other students walking out of their classes. I saw the news vans and news helicopter. I wanted to cry. We all gathered on the soccer field, then we started walking around the field, chanting "not one more!" or "enough is enough.". One minute before we were supposed to go back to class, all 300+ students gathered in the center of the field and we held 17 seconds of silence for the 17 people killed in Parkland. I wanted to cry. Everyone headed back to class and I gathered with the other organizers and we hugged. We quickly spoke to the media then headed back to class. Then...I cried. I cried because I had to plan a walk out to say I didn't want to die at school. I cried because I, a student, had to take action because my government would not.
Although my initial motive for the walkout was based on my biggest fear, I couldn't express my emotions. After the walkout, I realized that besides feeling fear, I was tired, sad, and angry. During the planning of the walkout, I felt like I couldn't work if I was crying all the time, so I held everything in until I couldn't anymore. I was emotionally and physically exhausted. Everyone talks about how cool it is to lead chants during a protest, but nobody talks about the importance of self-care for activists. This had never happened to me before, but since the fear was so prevalent in my life, I felt so intensely about it. In order to take care of myself, I stepped back from being a main organizer for the March for Our Lives. But I continued to help in the ways that I could. I gave a Generation Justice digital security training to the organizers so that they could protect themselves.
The March For Our Lives in Albuquerque took place March 24th, 2018. It was organized by amazing local youth that I had the honor of getting to know and help. I marched with 20 other Generation Justice members and their families. During the rally, all the organizers gathered on the stage together and when I looked at the crowd, I was overwhelmed by the community support and I cried. I saw children carrying signs and chanting "not one more!". We were planning for 2,000 people. The Albuquerque March was estimated to have had 9,000 - 10,000 people.
There were 800 other marches on that day across the world with millions of people marching. Everyone heard us that day. Congress heard us. Our country heard us and marched with us. Students aren't alone anymore. The March for Our Lives and our school walkouts were just the beginning.