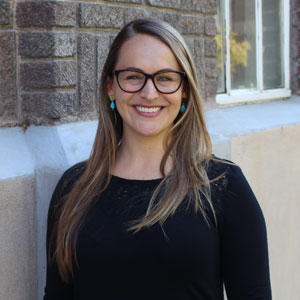 As the Director of Student Support, Ali Moore focuses on fostering the development of asset-driven, trauma-informed and inclusive school practices in order to increase schools' capacity to set students up for success, while promoting school cultures of support for all.
Prior to her role with Future Focused Education, Ali developed and managed the case management program within the UNM School Based Health Centers. Most recently, she worked alongside young people in the community, community stakeholders, and students from Siembra and Health Leadership High School to organize, develop and open a peer-support drop in center for transition-age opportunity youth (16-22 years old) in Albuquerque, NM. In this capacity, she served as a community partner to the Leadership Schools in developing project based experiences for the students as well as serving as a mentor for students directly.
Ali was born and raised in Albuquerque, New Mexico. With over 10 years of social work experience, she holds both a Masters in Social Work (MSW), with an International Concentration, from Dominican University, and a Bachelor's Degree in Social Work from Pacific University. Additionally, she has two years of field work experience in Tanzania, with additional experience in Rwanda, Kenya, Ecuador and Bangladesh and involvement supporting programs in Sri Lanka.