Youth Civic Infrastructure Fund
Youth Civic INfrastructure Fund
What is the Youth Civic Infrastructure Fund?
The Youth Civic Infrastructure Fund (YCIF) provides a powerful mechanism to concretely connect the learning that young people are doing with the future prosperity of their communities. Schools become connected, active elements of the community's "civic infrastructure".
Students, educational institutions, nonprofit organizations, and funders work collaboratively to build curriculum, internships, and capstone projects that actively work to improve the communities in which the students live.
The fund is a three-year grant providing multi-year unrestricted funding to nonprofit organizations who work in partnership with a participating local school to create a project-based capstone curriculum.
Each prospective grantee will propose a project that leverages the Future Focused X3 internship program to bring young people into their organizations for 13-week internships. Future Focused will manage the internships and facilitate participation.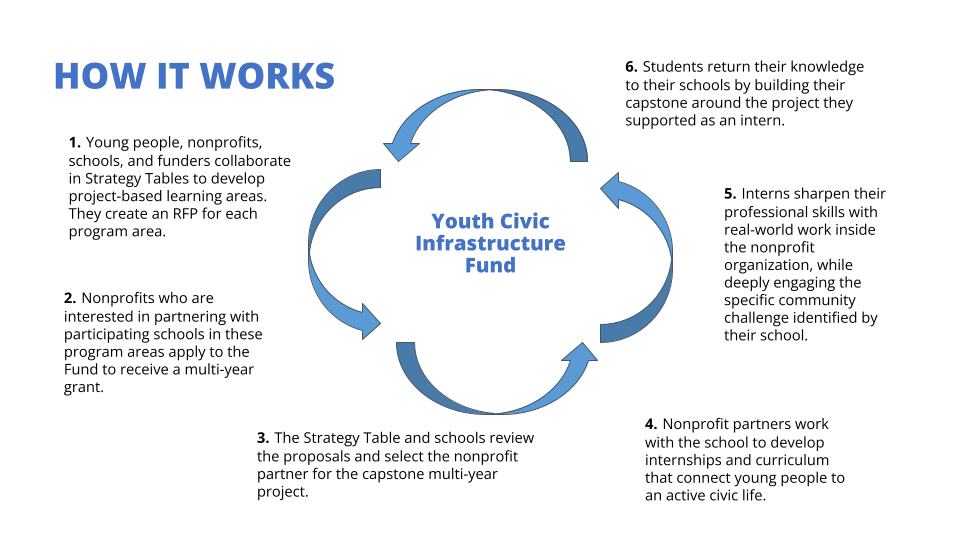 Request for Proposal is now available. Application cycle closes May 2, 2023. 
Instructions:
Download the RFP in MS Word format below

Respond to the questions in the RFP, typing into the Word doc 

Respond to Question 4 (budget) in a separate document (Word or Excel)

Email your application and budget as attachments to:

[email protected]

 
Are you a high school interested in learning more about capstone projects and how they can connect to the Youth Civic Infrastructure Fund? Please contact us at:
[email protected]
.