This Is Not a Test: The Real Root of "Assessment" Will Surprise You
By Sarah Collins Lench | Director of the Assessment for Learning Project | July 10, 2019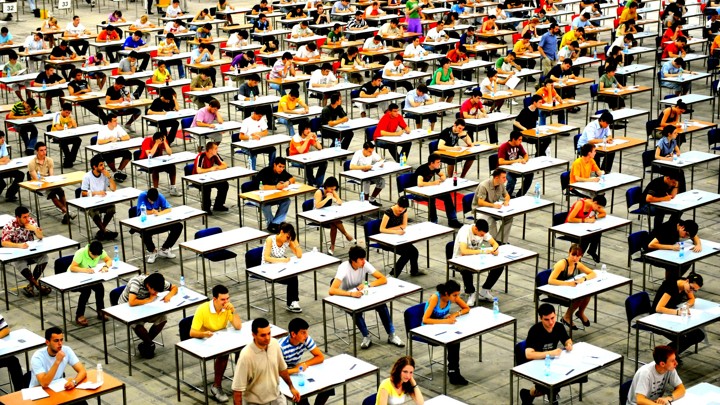 It's time for assessment practices to be intentionally designed to foster student agency rather than hinder it. This is not a test, folks. This is our future.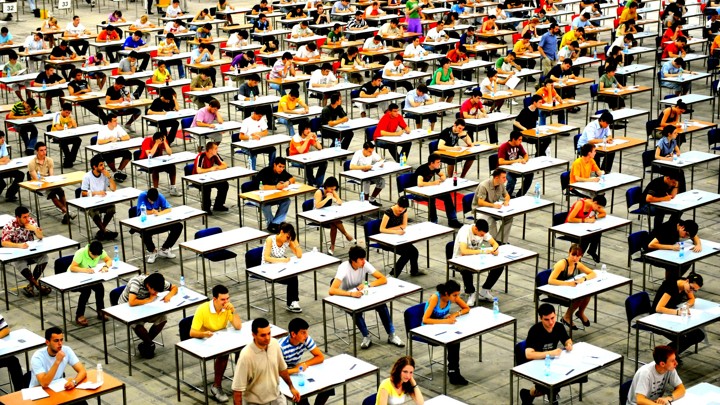 It's time for assessment practices to be intentionally designed to foster student agency rather than hinder it. This is not a test, folks. This is our future.
When you hear someone say "assessment," what is the first word or image that comes to mind? When I ask this question around the country, the answers are always the same:
"Test."
"Data."
"Right and wrong." 
"Scantron bubble sheets."
"Nervous children in front of computers."
The mere mention of assessment conjures up very vivid pictures of rooms filled with judgment and anxiety. Learning is noticeably absent.  
Now what if I told you that the Latin root of the word assess, assidere, means "to sit beside"?
That paints an entirely different picture, doesn't it? To sit beside a student is to offer support. It suggests an ongoing relationship, not an impersonal event. Meaningful feedback, not absolute judgement. Assessment, at its very root meaning, is deeply integrated with teaching and learning.
My colleagues and I at the Assessment for Learning Project (ALP) are working to make that different picture a reality for every student in every classroom. Launched in 2015, ALP is a national grantmaking and field-building initiative inviting educators and leaders to rethink the role of assessment for learning and K-12 systems improvement. We provide technical assistance and grants ranging from $15,000 to $750,000 to schools, districts, networks, and states who are developing and refining innovative approaches to #rethinkassessment.
How to Rethink Assessment
This work is about students as agents of change—for themselves, their communities, and beyond.
The concept of "student agency," is usually framed in terms of personal goals and individual success. But Future Focused is taking a different approach. They are treating students as assets for community development. This has totally transformed how the Assessment for Learning Project thinks, talks, and acts upon issues of student agency.
Youth-led movements for social change are nothing new, and our news and social media feeds today are filled with young people taking action on issues like climate change and gun reform. They've been agents of change, now it's time for education systems—and the assessment practices that support their learning—to be intentionally designed to foster their agency rather than hinder it.  
Is it too far of a leap to move the assessment conversation from bubble tests to solving the global climate crisis? Not if we commit to sitting beside students, listening to their voices as they tell us about their goals, experiences, what they know, and what they want to know.
But don't take my word for it, listen to the words of Jacob Gutierrez from Capital High School in Santa Fe:
"I think that schools need to help provide the youth with our life goals, because we are the future of the country… We learn for tests now instead of learning for knowledge."
What We Should Be Asking
Future Focused Education's work with the Leadership Schools Network and the broader policy change they are leading in New Mexico were a natural fit to join the Assessment for Learning Project. We've supported an incredible multimedia gallery called "If You Ask Me…" that brings student voices into the conversations about what the future of education should be. We've supported learning excursions to exemplary models like New Hampshire. District administrators experienced firsthand a statewide assessment and accountability system that prioritizes authentic evidence of student-centered learning. Resources have helped Future Focused staff to learn about digital badges for real-world work experiences alongside national innovators like Del Lago Academy for Applied Sciences. ALP grant dollars have brought national experts to support statewide convenings of educators and system leaders who are creating a shared vision for assessment in New Mexico.     
Through virtual and in-person peer-to-peer conversations, the ALP Learning Community is lifting up insights that inform our initiative-wide learning agenda.
These are the questions that we believe the entire field of education needs to wrestle with in order to fundamentally rethink assessment:
How can assessment support a broader definition of student success?

What assessment practices most effectively empower students to own and have agency over their learning?

How can educators build their expertise in gathering, interpreting, and using evidence of student learning to enhance instruction?

How does assessment for learning inform broader contexts of accountability, policy, and system design?

How can we pursue equity through assessment for learning?
Future Focused has benefited from learning how their innovative peers are addressing these questions, and we have collectively benefited from the ways that FFE has pushed our thinking as well.
This is not a test, folks. This is our future. Many thanks to Future Focused for helping to shape that future. It's a pleasure to sit beside and learn with you.  
Sarah Collins Lench is the Director of the Assessment for Learning Project and the Chief Curiosity Officer at the Center for Innovation in Education. Learn more about the Assessment for Learning Project at www.assessmentforlearningproject.org and join the mailing list for updates.
Feature photo courtesy of Fabian Pittroff/Flickr/The Atlantic