What Does a Senior Capstone Really Look Like?
Siembra Leadership High Schoolers Create Commercials for Real Businesses–and Win Cash Prizes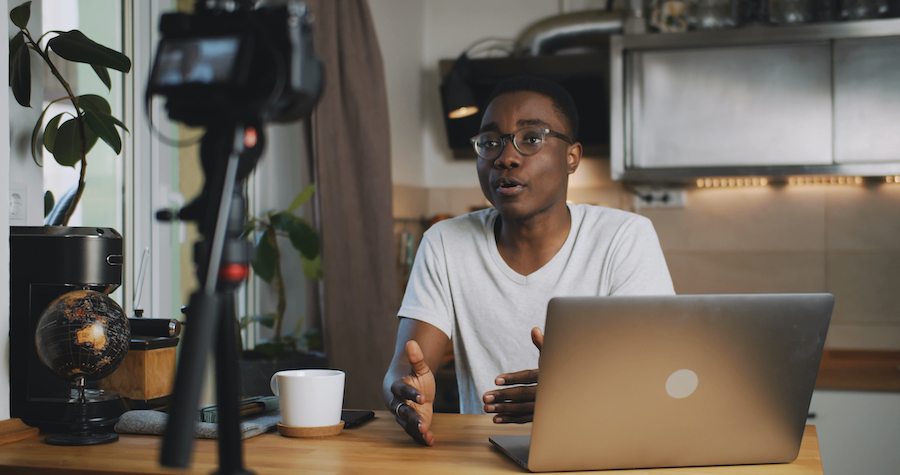 ---
The traditional classroom can be a challenging and sometimes confining space for learning. Siembra Leadership High School, the only entrepreneurial-focused high school in New Mexico, offers students a different approach to education outside of the walls of a classroom. Their real-world learning structure allows students to receive direct experience in a business or entrepreneurial environment. 
Natalie Tavitas, Community Engagement Director of Siembra Leadership High School, helps support and promote the senior capstone projects, a key component of Siembra's real-world learning model.  
"The beautiful thing about our school is that we do not actually have assignments. We have projects and the students work on numerous projects through the school year," Tavitas said.  
One of those projects that sets students up for success in the professional world is the senior capstone project. "All of our seniors are running their own businesses or non-profit enterprises. We also do not have final tests, we have exhibitions where students are able to show what they have learned that semester," Tavitas described. 
Siembra Leadership High School encourages their students to be business owners and entrepreneurs as their high school course. And they aren't tested on their knowledge gained through a traditional exam, standardized test, or mid-term. Instead, they create a senior capstone project. For example, last year their learning culminated in a commercial competition where they created a business commercial and presented it to a panel of community partner judges.
Tavitas explained the stakes of the competition: "In addition to getting bragging rights for being the winners of these commercial competitions, they each win $500," which the students can use to sustain and reinvest into their businesses. Siembra offers these cash awards thanks to donations from the McCune Charitable Foundation and other businesses and local entrepreneurs. 
The judges chose three winners of the competition: Sandia Snkrs, La Nueva Generación, and MLT studios. Judging criteria was based on the success of the commercial, whether the business looks professional, if the student showed an ability to fail forward, whether the business could make money, and if the students were able to answer the judges' questions effectively. 
One of the winners, Brianna Saucedo, created the food truck La Nueva Generación. She believes that thoughtfulness made her commercial stand out in the competition. "I took my time to make my commercial, I wanted it to be as professional as possible," she said. "I took photos of my food to make it meaningful. I also included people eating my food to make it aesthetically pleasing."
---
Another winner, Gabe Baldwin created Sandia Snkrs, a company that buys and resells sneakers and clothing. "I showed [the judges] that I was serious about my business, I wasn't just doing it to pass the class. I feel like I won based off the effort and time that I spent creating my commercial." 
Both students plan to continue operating their businesses after they graduate. Saucedo said she used the prize money to buy products for her foodtruck and to build a website for La Nueva Generación. Baldwin said he used the prize money to reinvest in his business by buying more merchandise to sell.
---
---
The 2020 school year was the first annual competition, and Tavitas wants to see it evolve in the future. "We hope to continue this momentum of being able to get our seniors funds for their businesses," she said. "Internally, we have created what is called the Circle of Support which will consist of community partners (entrepreneurs, business owners, etc) who will be a part of a membership where they will donate a certain amount of funds each year."
With the help of community partners, Siembra Leadership High School is re-thinking the future of education. Competition winner Saucedo can attest to how the school has supported her. "The school has definitely set us up to be successful entrepreneurs—you can create whatever you want to do," she said. "For me personally, they sent me to CNM and paid for my Street Food Institute class where I worked with actual chefs to build my menu."
Student winner Baldwin also found his experience at Siembra meaningful. "The school has helped me think about thinking about real-life situations apart from just taking a test," he said. "We also learn to budget and manage our finances." 
As Siembra LHS evolves their commercial competitions and senior capstone projects, they are pushing others in the education system to think outside the books. Tavitas is proud to showcase how senior capstones like these provide learning experiences that prepare students for real-world success.
---
---