Capstones Better Prepare Native Students for College and Careers
By Miguel S. Maizano | Zuni High School, Senior Honors Project Teacher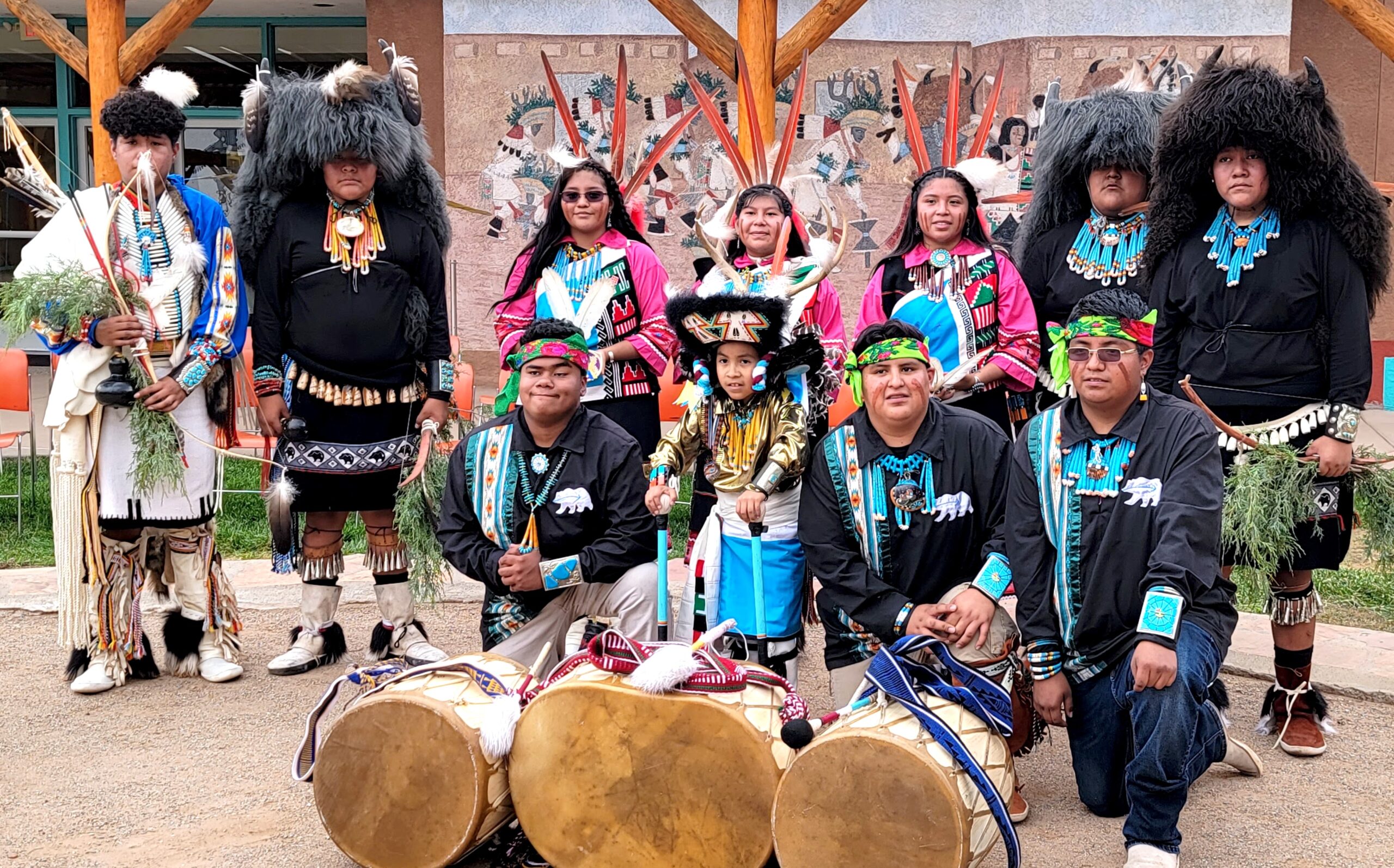 Zuni High School students showcase their A'Shiwi cultural dance at the Indian Pueblo Cultural Center in Albuquerque, NM. (photo credit: Richelle Davis)
"Exploration is critical for our students to see an exciting future for themselves. Studying for a standardized test will never spark this kind of passion."
The capstone project at Zuni High School is not just an alternative for high school graduation, but a pathway for our students to take their college education seriously. Most of our students are either first or second generation graduates in their family, so it is important for them to finish the academic course they started.
We call the capstone the Senior Honors Project. In this class our seniors conduct research on a certain degree or vocation that they would like to pursue after graduation. At the end of the semester, they give their final presentation in front of the panel of judges.
Capstones Inspire Confidence
This capstone project has changed the way our students look at themselves. They see what they are capable of accomplishing if they are given the opportunities and resources to develop their potential and achieve their goals.
Over the past four years, I have witnessed how my students develop their self-confidence as they prepare for their final presentation in front of an audience. Last semester, I had six students with special needs. One of them was diagnosed with a speech deficiency at a young age, so it added to her fear of public speaking. She was afraid of being laughed at. The Senior Honors Project not only prepared her on the day of the presentation, but it also helped her to believe in herself. She proved that she can speak with confidence in front of the public without the stigma, and was able to bring back her confidence. 
She, and all of my students, have proven that if they are given the opportunity like a capstone project, with proper guidance and training, they are able to bring out their full potential.
Seeing New Futures
---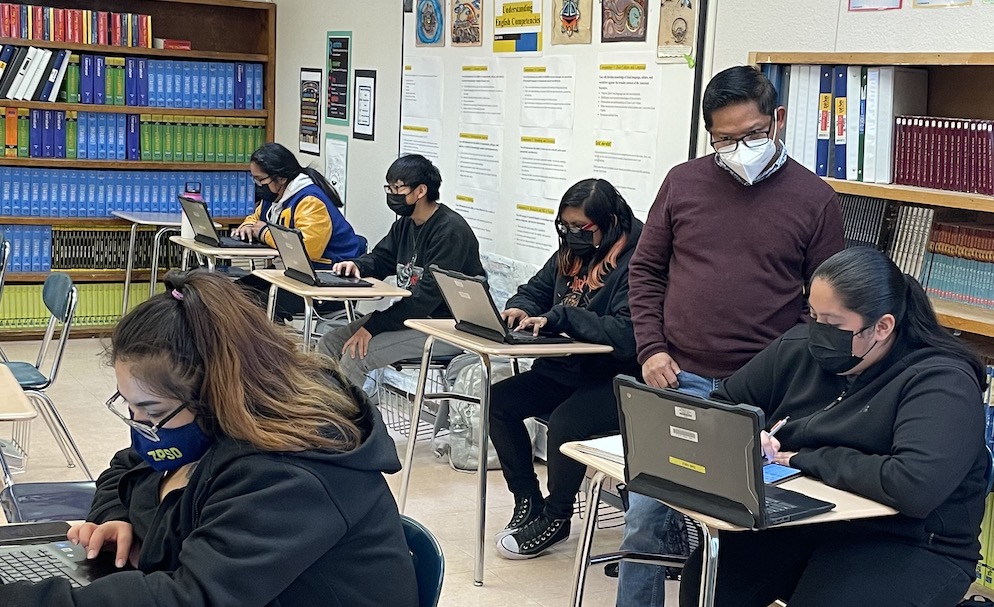 Mr. Maizano assisting one of his students in his capstone class as they prepare for their interview portion of their final presentation.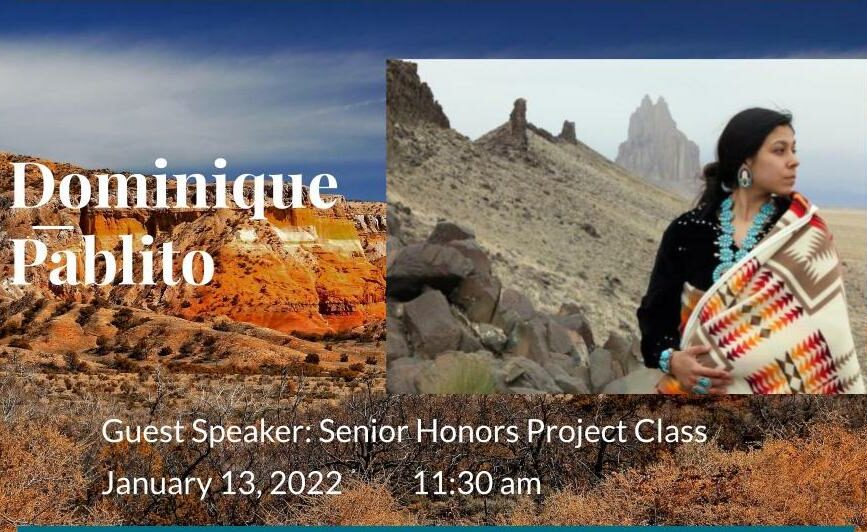 Guest speaker and Zuni native Dominique Pablito visited Mr. Maizano's class to speak about her current studies in medicine at Brown University.
---
Another component of the capstone is new role models. I invite guest speakers in my Senior Honors Project class which includes successful alumni and Zuni natives who have been successful in their own fields. Dominique Pablito, who is currently pursuing her doctorate in medicine at Brown University, gave a speech to my students a couple of days ago. Dominique emphasized the importance of perseverance and resiliency in the challenges that our Native American students face. She added the importance of connecting to their Zuni core values, their culture, and their language if they want to be successful in their own field. 
Another guest speaker in my class was Joann Tsethlikai. She is a Zuni native and is currently working as a systems engineer at Boeing, based in Washington state. Joann invites other Native Americans who work with Boeing to share their experiences working with the company, as well as other opportunities that are available to our Native American students. Our students were inspired by their stories and that they would like to be like them some day.
Our students not only learn to conduct a research project, but they also start applying for colleges and universities. They learn how to apply for scholarships and grants that are available to Native American students, as well other scholarship opportunities that will help them finance their education. 
At first, they are hesitant to apply to colleges and universities because they do not have the financial capabilities of pursuing their dream careers. One of my students last semester wrote this in her essay, "As a Native American student I too often have the fear of not being financially able to do what I really want with my life. It's a struggle here on the reservation to get any recognition because we're often unheard of. Sometimes we don't even try at all because we're afraid of judgment or the help  isn't there at all."  
But after the semester of work students develop their confidence and are willing to take the risk knowing that they have the knowledge and skills to be successful.
This type of exposure to opportunities, self-guided research, and exploration of interest are critical for our students to see an exciting future for themselves. Studying for a standardized test will never spark this kind of passion. 
Showcasing Identity
The Senior Honors Project not only showcases students' academic skills, but also their talents and skills that could not be measured by standardized tests. They present their talents in drawing, pottery, and weaving by bringing their artifacts and crafts. They showcase their medals and achievements in sports and other extracurricular activities. Some of them also participate in some cultural activities in the state that showcase their cultural dances and ceremonies.
Alexandria Bewanika, one of the best presenters of her capstone project last semester, (she is also one of our top runners in school) shared with me her experience. She told me how she disliked standardized testing because of the memorizing, reviewing, and preparation needed for a test. She said that unlike standardized testing, the capstone presentation was more exciting and gave her more confidence to share her talents.
---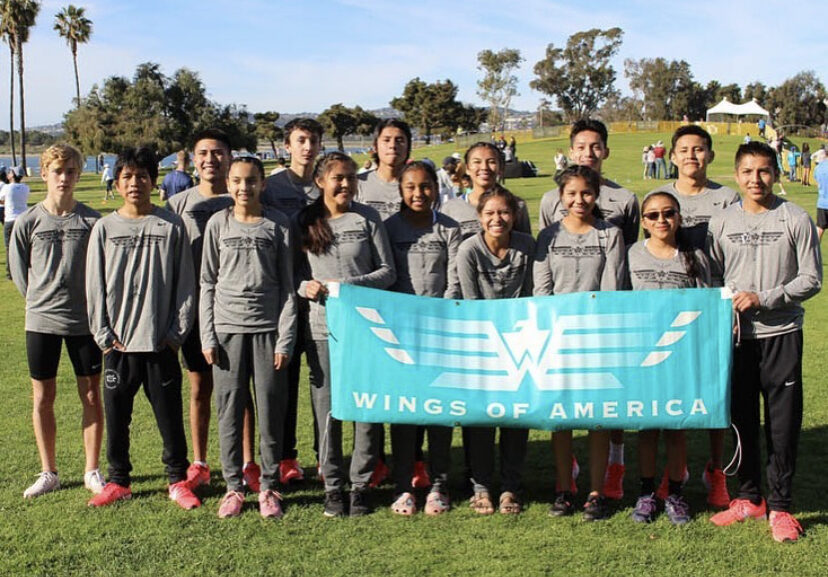 Zuni High School student Alexandria Bewanika and other Native American runners from across the U.S. participate in the Wings of America competition in January of 2020 in San Diego, California. (photo credit: Alexandria Bewanika)
---
During their final presentations, our students are encouraged to speak their native language in their introduction and also to wear their traditional Zuni regalia and jewelry to show their pride in their culture. 
Parents and family members show their full support to their students by attending the presentations as their cheerleaders and fans. You can observe from their faces their pride and joy of seeing their sons and daughters pass their presentations as if it is their high school graduation. These are the scenes that highlight each semester that I have teaching these students. 
When I see them scream with jubilation from passing their presentation and the hugs and greetings from their parents, I know that I have pushed them closer to their dreams.
---