New Law Increases Native Students' Access to State-Funded Education Programs
By Alvin Warren | Vice President of Career Pathways and Advocacy, LANL Foundation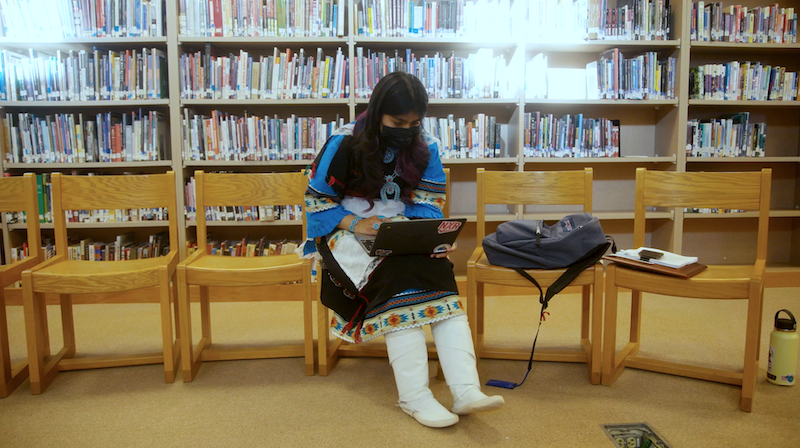 ---
"
Learning from educators and young people who are rooted in indigenous values and theories of education will be an invaluable contribution to the schools involved in the high school transformation movement across our state."
The enactment of House Bill 198 (Career Tech Funds for Indian Ed Schools) during the 2023 legislative session represents another important step in New Mexico's progress toward educational equity in the wake of the Yazzie/Martinez decision. 
At first glance, this bill appears to be a simple clean-up of existing laws. It allows Bureau of Indian Education-funded high schools to access the same state funding for Career Technical Education (CTE) that was already available to public schools and charters. 
On closer look, it is much more. House Bill 198 will help move our state closer to ensuring that all Native American students have access to culturally- and linguistically-relevant programs necessary for them to be college or career ready. This addresses a vital element in the Yazzie/Martinez decision issued by the late Judge Sarah Singleton. 
The Yazzie/Martinez ruling reflected a longstanding inequity in not allowing Bureau of Indian Education (BIE)-funded schools to access funding, programs, and initiatives administered by state education agencies. 
The New Mexico CTE Pilot Project and the CTE Fund were examples. Created by statute in 2019, this Project and Fund have provided an average of $3.9 million each year to public and charter schools to support high-quality CTE programs and professional development. High-quality CTE is a proven strategy to increase graduation rates, attendance, student engagement and preparation for careers. When this law was enacted, however, it did allow BIE-funded high schools to apply to participate in the project nor receive any of its funds. This has prevented around 1,700 of our state's Native students from having equal access to these vitally-important programs.
What Will HB198 Do?
The enactment of House Bill 198 fixes the funding oversight and does four other important things for our state.
---
1. Aligns with Federal Law
First, it brings us in line with federal law. The Carl D. Perkins Career and Technical Education Act of 2006 (20 U.S.C. 2351) states that "each eligible agency distributing funds under this section shall treat a secondary school funded by the Bureau of Indian Education within the State as if such school were a local educational agency within the State for the purpose of receiving a distribution under this section." In other words, when the State of New Mexico gets federal CTE funding, it's supposed to share those funds with BIE-funded high schools, something that the Public Education Department (PED) is also now working to do better.
---
2. Cross-Collaboration
Second, House Bill 198 will help align education resources to the reality that Native American students in New Mexico, regardless of where they go to school, are citizens of the United States, their Tribal nations and our state. Native students make up 13% of our public school student population and over 8,000 Native students attend BIE-funded schools, including Tribally-controlled schools. 
Like my three children who grew up in Santa Clara Pueblo, many Native students will attend both state-funded and BIE-funded schools in their academic careers. To serve these students' needs and ensure their success, both state law and programming must support collaboration across these systems and ensure that Native students have access to the resources and programs they deserve to succeed in school and in life, regardless of which type of public institution they attend.
---
3. Establishes Precedent
Third, House Bill 198 demonstrates once again that it is both legal and current practice for the State of New Mexico to provide state funding to BIE-funded schools. For example, BIE-funded schools have received funding through state agencies including the PED, Indian Affairs Department, and the Department of Health. 
As stated in the House Bill 198 Fiscal Impact Report issued by the NM Legislative Finance Committee: "…the Legislature has also authorized direct public school capital outlay appropriations to Santa Fe Indian School and the Navajo Preparatory School, where the Attorney General's note stated, 'this administration has always regarded the Navajo Nation and New Mexico's other tribes and pueblos as government entities when analyzing appropriations under the anti-donation clause.' Additionally, as long as appropriations are made directly to a state entity such as the Public Education Department, this satisfies Article IV Section 31 in the New Mexico constitution, requiring appropriation of resources to an entity under absolute control of the state."
---
4. Reinforces Equity
Finally, House Bill 198 also helps address another critical component to equity, as identified by the Yazzie/Martinez decision. By enabling BIE-funded high schools to access state CTE funding, the bill allows Tribal schools to design their CTE curriculum so that it sustains and revitalizes Native culture and languages. 
This should be true across all schools and programs that serve Native students. Native students, teachers, administrators and other education experts have been developing their own curriculum and programs that respect each Tribe's sovereign right to use its own culturally- and linguistically-relevant approaches, standards, and assessments. State resources are increasingly being provided in ways that respect these approaches, something long overdue.
---
Equity Should Not Be Controversial
When we center student opportunities and access to programs, educational equity need not be a controversial issue. One of the most vital components of an equitable education system is that students have access to vibrant learning opportunities no matter where they attend school. If students change schools or districts, as many do for a myriad of reasons, they should not lose access to those opportunities. This is what House Bill 198 helps achieve.
I am hopeful that our state can continue to build opportunities for all of our students, while also supporting the unique needs of Native students. By supporting those who have been historically excluded, we support the health and prosperity of all New Mexicans. Perhaps this is why House Bill 198 sailed through its committee hearings and both the Senate and House of Representatives without an opposing vote and was signed by Governor Michelle Lujan Grisham on March 30. 
Equally exciting, this year's budget bill includes $40 million for CTE, High School Innovation Zones, and work-based learning. This significantly-increased appropriation will provide more funding to currently-funded CTE programs while making room to include BIE-funded high schools. It will also help our state create more engaging and relevant experiences that will better prepare our talented and ambitious youth so they're inspired and prepared to contribute to their communities. By expanding the Innovation Zones, we are creating more opportunities for high school students to have access to work-based learning, personalized student supports, and well-rounded educational opportunities.
Thanks to HB 198, Native students at BIE-funded schools will also have access to all of these opportunities. I believe that this is something all New Mexicans can be proud of.
---
A Word from Tony Monfiletto
We are thrilled by the legislature's decision to pass HB 198 which adds Tribally-controlled schools to the Innovation Zone initiative. Adding these schools will be a watershed for the school transformation efforts in New Mexico. Learning from educators and young people who are rooted in Indigenous values and theories of education will be an invaluable contribution to the schools involved in the high school transformation movement across our state. Welcome to all of our new partners that will add their wisdom to make our communities healthier and more prosperous!
---
Recent Articles