Teens Need More Hands-On Learning
X Studio at Explora Answers the Call
By Kristin Leigh | Co-Executive Director, Explora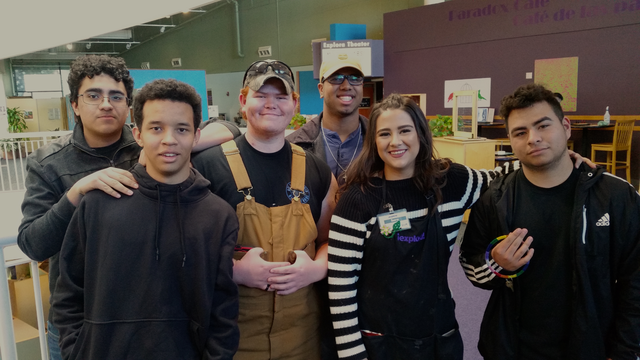 ---
"Albuquerque needs spaces where teens can be safe and encouraged to pursue their passions and aspirations."
Explora recently celebrated the grand opening of X Studio, its new STEAM (science, technology, engineering, art, mathematics) education and workforce development center for teens. The space is designed for teens to learn new skills, explore professional equipment, and develop ideas that can be realized. 
Local wisdom was crucial in the creation of this project. Explora held over 40 community listening sessions with diverse groups across Albuquerque, utilizing The Harwood Institute for Public Innovation's format for community conversations, which asks participants to describe the kind of community they want, their aspirations, and the barriers.
Paloma Lee-Mock, a teen participant in the community sessions, said, "I was most excited about having a spot for older kids to explore creativity but less in a 'look at this' way and more of a 'let's use this!' way. I think creativity and experiencing new things is part of this fun, but I'm very excited that Albuquerque has a spot where teenagers can enjoy learning about all the components that go into creativity and technology. Keeping learning fun, keeping it hands on. I think teenagers need more of that."
---
Why STEAM in ABQ?
For many of the parent participants in these listening sessions, their children will be the first in their families to get post-secondary education. Parents described that they wanted to know what steps should be followed to get local, high-paying STEAM jobs and how best to support their children on pathways to STEAM careers. Our listening sessions made it clear that New Mexico students need more access to high-quality educational opportunities that prepare them for jobs which can end generational cycles of poverty. 
In 2020, about 7% of all jobs in New Mexico were STEM-related, and the average wage of all STEM occupations in New Mexico was $94,599 (over twice that of non-STEM occupations) making it essential for teens in Albuquerque to have resources that encourage enthusiasm through hands-on STEAM activities. 
Joe Hastings, Explora Co-Executive Director, said, "Teens are not just preparing for college or the latest job trends, they also will be inventors of vital new jobs and of solutions for our state that we haven't yet imagined. STEAM education and access are pivotal."
---
Inside the new teen center, you'll find a hands-on exhibition that highlights important work taking place in Albuquerque, a Makerspace, a Tech Lab, a "Trades Yard," and the Teen Lounge, all of which support programming for teens to strengthen their skills and support their career aspirations.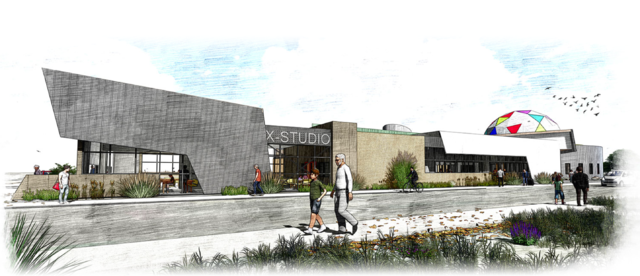 In the Makerspace, teens can connect with professional-grade tools and equipment, such as 3D printers, laser cutters, silkscreen equipment, woodworking tools, and digital sewing machines and conductive thread. Students can imagine a concept, draft it within a computer model, yield workable design schematics, and then craft their projects with raw materials and machinery. It's a full-spectrum learning space supporting the talents and creation of a young person's idea and helping them bring it to life. 
Adjacent to the Makerspace is a Tech Lab, where teens have access to the technology and mentors needed for homework help, resumé assistance, programming classes, robotics workshops, sound and video editing, and more. 
A "Trades Yard" indoor-outdoor classroom space and exhibit kiosk provides students information about the STEM embedded in construction trades, information on how to become a journeyman, and stories of local tradespeople. A variety of New Mexico trades unions will bring the space to life monthly, facilitating workshops that teach teens a variety of construction skills, introduce tools like augmented reality welders, and more.
Fostering Teen-Centered Spaces
X Studio also hosts Teen Science Cafés with local STEAM professionals and Teen Nights. During the development of X Studio, teen focus group participants made clear that wrap-around support for teens  would be crucial--maybe even more important than the STEAM content. 
In order to fulfill this need, X Studio hosts weekly social-emotional learning meetups, often in the form of Friday "Crafternoons," where mental health check-ins and strategies are blended into social craft projects, like sticker collages or DIY waffles. 
Meztlitonali Bennett Perez, an X Studio Intern said, "Crafternoons are a place where teens can do relaxing art projects and hangout. It's a safe place for teens to open up, but also try new things and challenge themselves." By including teen conversations and suggestions, X Studio further improves both individual and community prosperity.
Additionally, X Studio provides support services that include life skills, financial literacy classes, FAFSA instruction, test prep, aid with job applications, job preparation, and digital literacy programs. Over 1,200 teens have participated in these support services and SEL meetups. One of the most popular spaces is the Teen Lounge, which provides a stocked pantry and kitchen and gaming equipment for hanging out and socializing between programs. In the resource center, teens can grab school supplies, non-perishable food, personal hygiene products, clothing and more, with no questions asked. 
Albuquerque needs spaces where teens can be safe and encouraged to pursue their passions and aspirations. In connection with Future Focused Education, Explora hosts X3 interns to support the programming at X Studio and the children's museum. Including teens in the process is part of the mission. How else will we know what teens are in need of and want to explore? X Studio is a space for teens to belong and get the mentorship support that will encourage them to succeed. 
Visit explora.us/x-studio for more information and free membership.