The Making of a Graduate Profile: Peñasco School District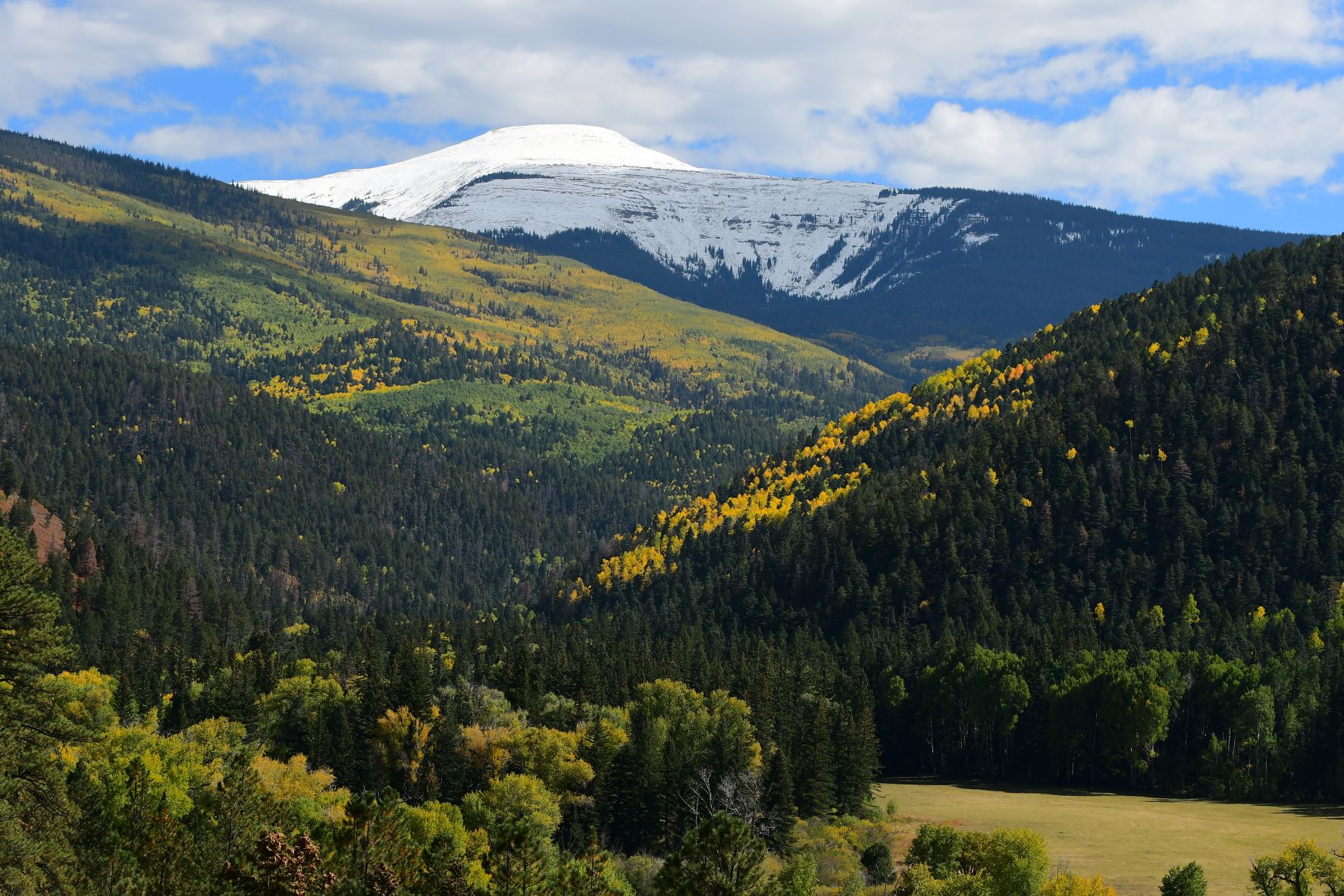 ---
Peñasco is a rural school district in Northern New Mexico with nearly 300 students enrolled from pre-K to 12th grade. For the last couple years, school leadership has been hard at work creating a graduate profile for their students. Their primary goal is to increase enrollment and student engagement, but they also hope to address larger, systemic challenges facing the small community. 
This ambitious effort directly addresses the imperative of the Yazzie/Martinez case. Peñasco's courageous and innovative approach to a community-engaged graduate profile is allowing them to better serve students and reverse historic inequities. 
Starting with the Beginning in Mind
This charge is being led by Superintendent Melissa Sandoval and Student and Family Engagement Coordinator, Dr. Bonavita Quinto-MacCallum. But, they are quick to point out, the work involves the whole district, "from maintenance to bus drivers to cafeteria staff" says Dr. Quinto-MacCallum. Students, parents, and community members have also been involved every step of the way, giving feedback and offering suggestions. 
A graduate profile is a document articulating the knowledge, skills, and attributes that the local community identifies as important for graduates to have when they exit high school. This includes competencies outside of education, such as employability and social-emotional skills that honor students' cultural and linguistic identities.The process of making a graduate profile involves extensive community input, often in the form of interviews, focus groups, or surveys. Once complete, the graduate profile helps to shape curriculum and assessment for the district. 
For Peñasco, the first step in creating the graduate profile was making a committee and writing a "Compelling Purpose Statement" which served as a guiding principle for the profile. Next, each committee member came up with interview questions. Then they began interviewing anyone who'd talk to them: local employers, grandparents, former teachers, students, former students. The committee also created and collected surveys and hosted open forums and events, seeking community input in any way possible.
"We had Halloween carnivals, we had fairs, we had literacy nights, we had parent advisory committee nights," says Dr. Quinto-MacCallum. They asked their community what they wanted to see in graduates, but even more importantly, they asked the students themselves what they wanted to see. 
"It doesn't matter what your role or title is," says Dr. Quinto-MacCallum. In such a small district, people wear many hats and they "are all leaders," she says. 
Parents and family members who'd graduated from Peñasco admitted they'd never thought critically about what they needed from the school because they'd never been included in the process. Because of this approach, they suddenly had ideas and were empowered to share them in a space where people listened. 
The community interviews and surveys reached a clear consensus. "It all came back to helping students connect back to the community," says Superintendent Sandoval.
The community wanted to see their graduates attend post-secondary schools, trade schools, or become focused on a career. They wanted the students to be able to leave Peñasco but also give back to their community. And all of this connected back to the "Compelling Purpose Statement," which reads:
"A Peñasco education is rooted in school and community pride. We celebrate our community's diverse tradition(s), culture(s), and values. We bring unity to the school and community as we cultivate a positive and engaging learning environment, empowering students to explore and connect to the larger world."
The Profile Comes Together
After reviewing all of the surveys and interviews, the committee identified the top five attributes that the community wanted their graduates to achieve. They are: engaged, empowered, connected, proud, and core values. Under each characteristic, there are a couple indicators to guide assessment.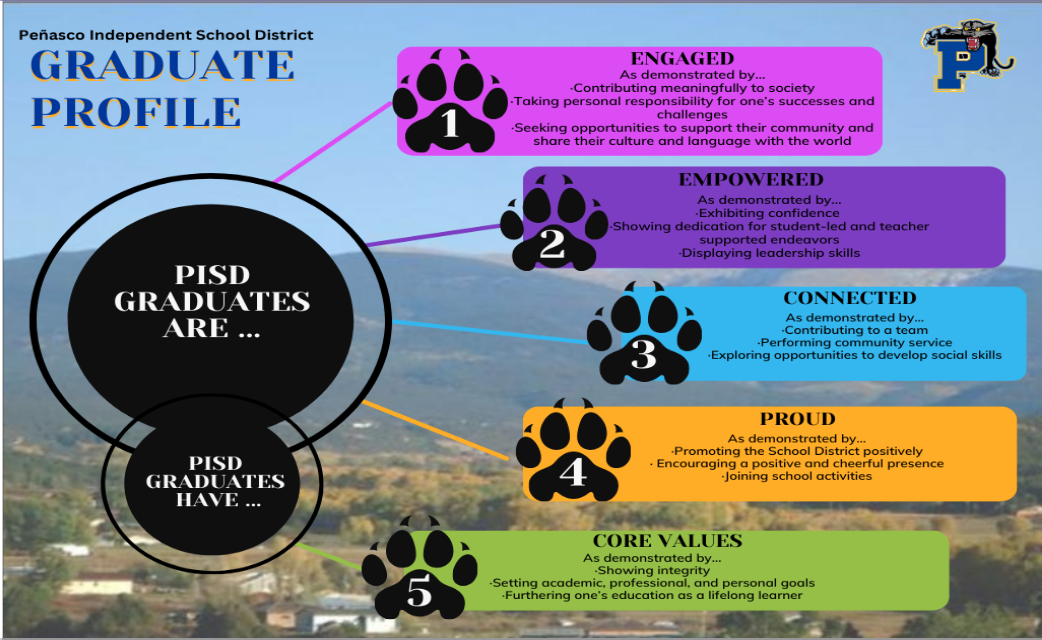 Now that the graduate profile has been created, the next step is implementing changes to the curriculum to reflect the new goals and assessments of the community. This usually involves developing a capstone program as well as investing in more work-based learning or Career and Technical Education programs (CTE).
In Peñasco, they are in the beginning stages of building a project-based learning curriculum starting at the kindergarten level. They've started to use Advancement Via Individual Determination (AVID), which is an in-school academic support program that prepares students for college eligibility and success.
In an attempt to focus more on CTE, the district has been building relationships with local businesses as well as larger employers in the area such as the Forest Service and the nearby Pueblo.
Peñasco also recently teamed up with partners across the state to host a project-based learning institute for K-12 teachers that focused on acequias, water rights, and land grants—issues that are integral to rural Northern New Mexico's history and culture. This will serve as a theme for classes across the curriculum, putting the needs and concerns of the immediate community at the forefront of the students' education. This is an excellent example of tailoring curriculum and instruction to meet the needs of a specific community.
The Wider Impact
Culturally-relevant project-based learning opportunities like the acequias institute show the Peñasco graduate profile in action. This type of curriculum is actively cultivating the "engaged" "connected" and "proud" components that the community requested.
In turn, these programs address some of the challenges that the district is facing. Enrollment has been dropping steadily for the past decade because students have been leaving the district for bigger schools nearby.
"The goal is to really get our district and our kids to be college and career focused," says Superintendent Sandoval, whose vision for Peñasco has been instrumental since she came to the district a couple years ago. "What we're doing is starting this work at the kindergarten level and working hard on trying to create a more rigorous and a broader curriculum."  
As is the case for many schools affected by COVID, Peñasco struggles with absenteeism and disconnection among the students, perhaps also due to larger systemic issues such as poverty and substance abuse/addiction. But when students are more involved with their learning and connected to their community, they become more engaged and invested. With the changes school leadership is making, students will learn about and address the issues within their own community. 
"What we want to do is really enhance what we have and be just as strong and competitive as our neighbors," says Superintendent Sandoval, "to keep our kids here." 
While the Peñasco committee has put in a lot of work to implement these changes, they have also been supported by the New Mexico Public Education Department, Future Focused Education, the LANL Foundation, and the Santa Fe Center for Transformational School Leadership, among others. Through Future Focused's Community of Practice, folks from Peñasco have been able to connect with other districts that created or are also in the process of creating graduate profiles. They have built relationships with people from various districts and now have an extended network to support them throughout the process. 
"Once you have a curriculum the student can connect to, that engages them, that empowers them...then they have value," says Dr. Quinto-MacCallum. "And I think that's the pivotal piece, because if they're not invested in what they're learning, that graduate profile isn't going to mean anything. But if they're invested in what they're learning, then they can make the connection."