Why We Need Social Emotional Learning Standards Now
By Cynthia Ramirez | Director of Student Support, Technology Leadership High School | March 21, 2019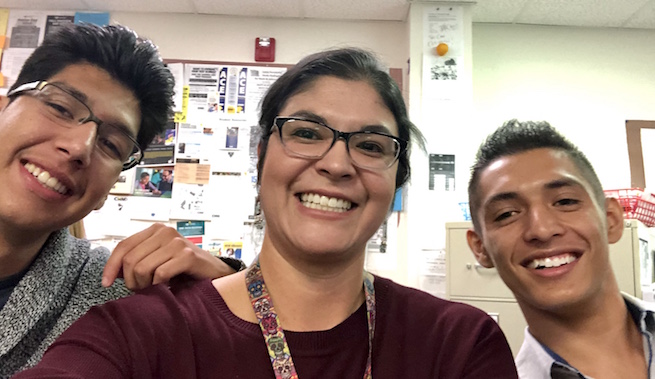 "Deeper engagement through project-based learning includes access to mental health services. This ensures that student development is integrated into classroom projects."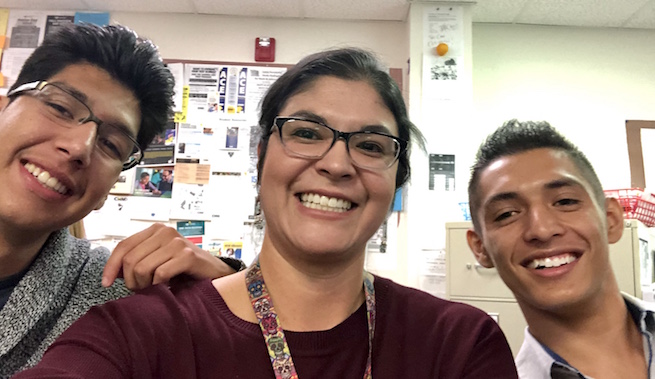 "Deeper engagement through project-based learning includes access to mental health services. This ensures that student development is integrated into classroom projects."
"If you never heal from what hurt you, you'll bleed on people who didn't cut you." -Unknown
This quote speaks to the work we do as educators to support, teach, and care for our students through trauma informed practices and social emotional learning.
As an educator, school social worker, and now an administrator, I've had the opportunity to witness the amazing ability for young people to overcome the most adverse obstacles. Recently I spent an afternoon listening to seniors at Technology Leadership High School present their community improvement proposals. Their presentations included helping the homeless, creating youth centers, and establishing emergency platforms for people to access mental health services. Their proposals are a culmination of and testament to their own healing and social emotional learning.
Opening Technology Leadership High School four years ago allowed us to create a school whose foundation is to develop and support a young person's resiliency. We intentionally developed a model that aligns strong academic rigor and social emotional learning.
Our model includes pairing youth with a supportive adult, integrating student-driven goals, and creating intentional opportunities to achieve those goals. We developed an advisory framework that prioritizes identity development, mental health services, and social emotional skills. Here is what I've learned over our past four years at Tech:
We must first work on ourselves
If we are to provide an educational space for young people to be challenged, grow, and become their best selves, we must do this same work for ourselves, as adults and role models. The Aspen Institute's National Commission on Social, Emotional, & Academic Development released a report calling for specific changes to incorporate social emotional skills into our classrooms and our personal lives. Their recommendations call us to prioritize the whole child, embed social emotional learning into academics, and build our own expertise on child emotional development.
How we do it at Tech
Tech's Student Support Model integrates these recommendations in various ways. We realize that in order to educate a young person we must have a full understanding of the entire young person.
Support services
We have four school social workers, (including myself as a Director), and three social work interns to provide services to each of our 220 students. Each student receives an intake that helps determine resources and support needed (individual or group mental health services, outside community resources, etc.), identifies the student's strengths and assets, and examines what type of learner they are.
Skill-up the staff
All of our staff at Tech receive over 30 days of professional development throughout the school year to include how to integrate social emotional learning and the advisory framework goals into project-based learning.
Ask more
We have students complete check-ins every school day and utilize resources from the Search Institute to collect data and guide interventions.
Scaffold
In order to ensure continual and measurable growth, our social emotional standards are scaffolded to meet the development of the student. Starting with ninth grade skills of emotional awareness and managing reactions and behavior, to twelfth grade skills of preventing and resolving interpersonal conflicts, this tiered framework helps us meet students where they are and track progress.

The new normal
We need to imagine educational settings where every student has access to support by licensed school social workers and/or other licensed mental health professionals. The situation is dire. The ACLU found that
1.7 million students attend schools with police but no counselors.

6 million students are in schools with police but no school psychologists.

10 million students are in schools with police but no social workers.
At Tech, deeper engagement through project-based learning includes access to mental health services. This ensures that student development is integrated into classroom projects. True progressive educational reform for our children and for our communities will require educators to consider the following:
Work with and for educators to create social emotional learning standards in New Mexico.

Work towards establishing standards to institutionalize a commitment to improving students' lives, not just academic performance.

Work to create space within schools for educators from charters and the district to cross-collaborate on best practices.

Work to acknowledge that school social workers are educators and an integral part of schools and contributors to youth development.
Advocate for equity
I am privileged and humbled to be a part of a cohort of educators from across the nation as a Deeper Learning Equity Fellow. The fellowship allowed me the opportunity to unapologetically advocate that all students have equitable access to deeper learning. Social emotional skills are pivotal to a student's academic success, overall development, and long-term success.
We know that the social emotional development allows youth to incorporate academic information to build towards increased consciousness and self-actualization. We need more educators striving for equitable access for all students to achieve their goals. It will take all of us.
"You can't do the Bloom stuff until you take care of the Maslow stuff."  -Alan E. Beck