Building Stronger Parents, Stronger Leaders through Paid Internships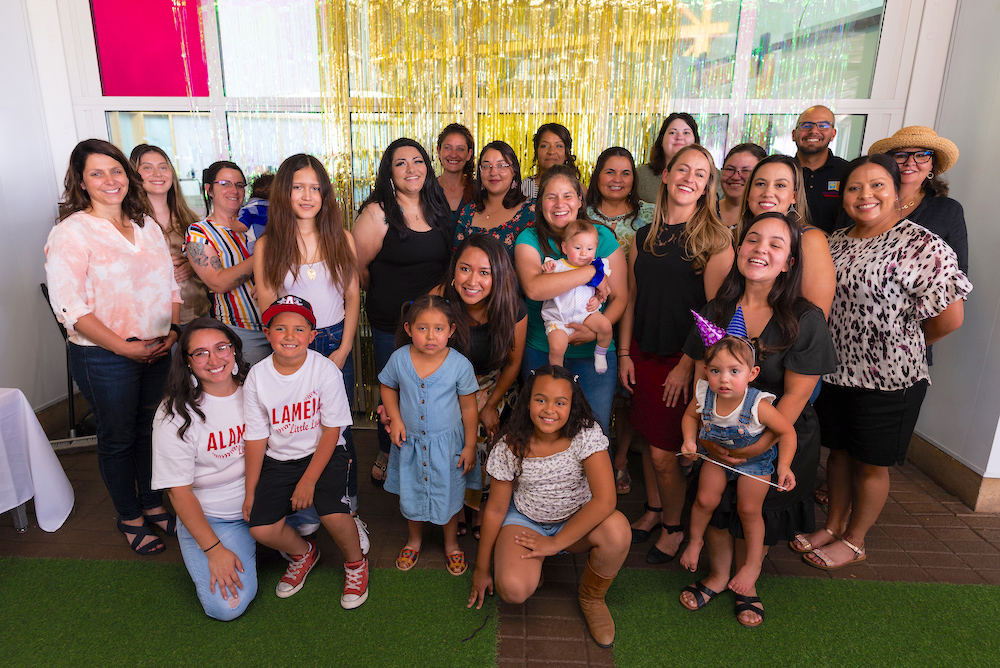 ---
The X3 ECECD Abriendo Puertas Facilitator group internship cohort celebrates at the graduation ceremony after concluding 10 weeks of learning and professional development. [photo by Alayna Bowman]
---
Young parents are some of the most hard-working and overlooked students in our education systems. They are juggling school, parenting, childcare, and full-time jobs—and yet these students are often met with discrimination, stigma, and lack of upward mobility, which can have a multigenerational impact. 
Future Focused Education has made it a priority to be part of shifting the narrative around young parenthood—away from the deficit focused and stigma-laden story we are all too familiar with—towards engaging young parents as valuable assets and leaders to invest in because of the role that they play as first teachers and leaders to their children and within their families.
During the Spring, Future Focused partnered with the Early Childhood Education and Care Department and Abriendo Puertas/Opening Doors to forge new pathways for young parents. Together we piloted the X3 ECECD Abriendo Puertas Facilitator group internship to create professional development and leadership opportunities, grounded in social emotional learning (for parents and their children). We graduated our first cohort in June, and the impacts were incredible.
"I've gained so much knowledge and life changing skills throughout my time in the internship," said Sandra Chavez, mother of two young children. "After losing myself in the beautiful chaos of parenthood, I now use these skills at home with my two kiddos and I'm forever grateful for this boost of confidence." 
The 10-week paid internship program provided training to Sandra and 13 other young parents, all of whom have children from zero to five years old. The group engaged in weekly individual professional development from ECECD's Home Visitors, who served as their mentors, X3 coaching support from Amarisa Barboa, X3 alumni and young parent, and Abriendo Puertas/Opening Doors facilitators. 
Many parents, especially young parents, don't know about resources and opportunities available to them. ECECD's Home Visiting program is a free service that helps equip families with the skills and support they need to build stable and nurturing homes for their children. The X3 interns were paired with a mentor from the Home Visiting staff who helped them explore the support systems available, while also teaching them professional skills.
---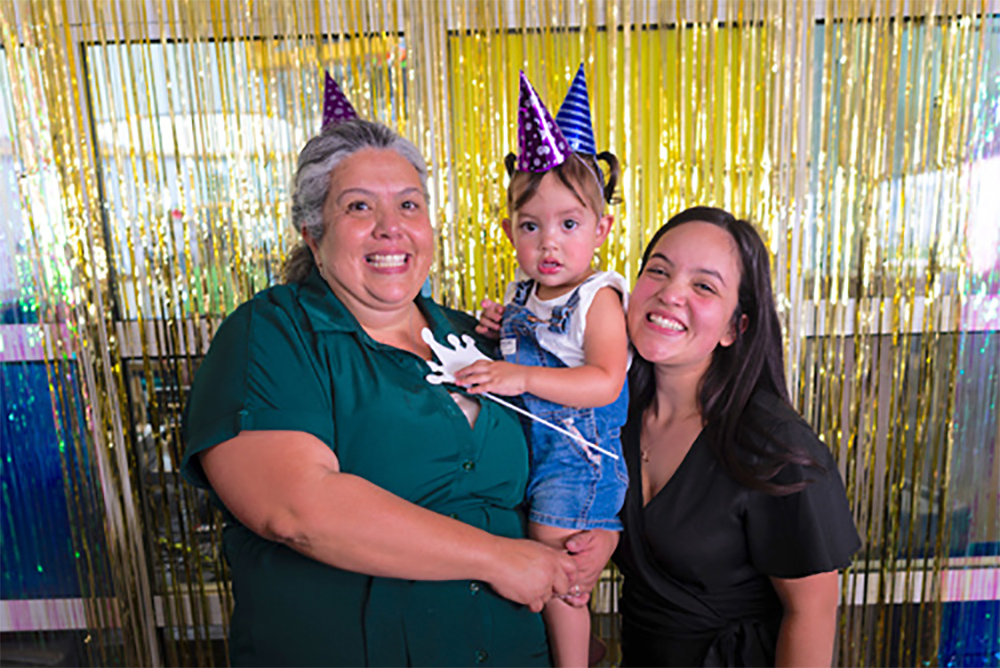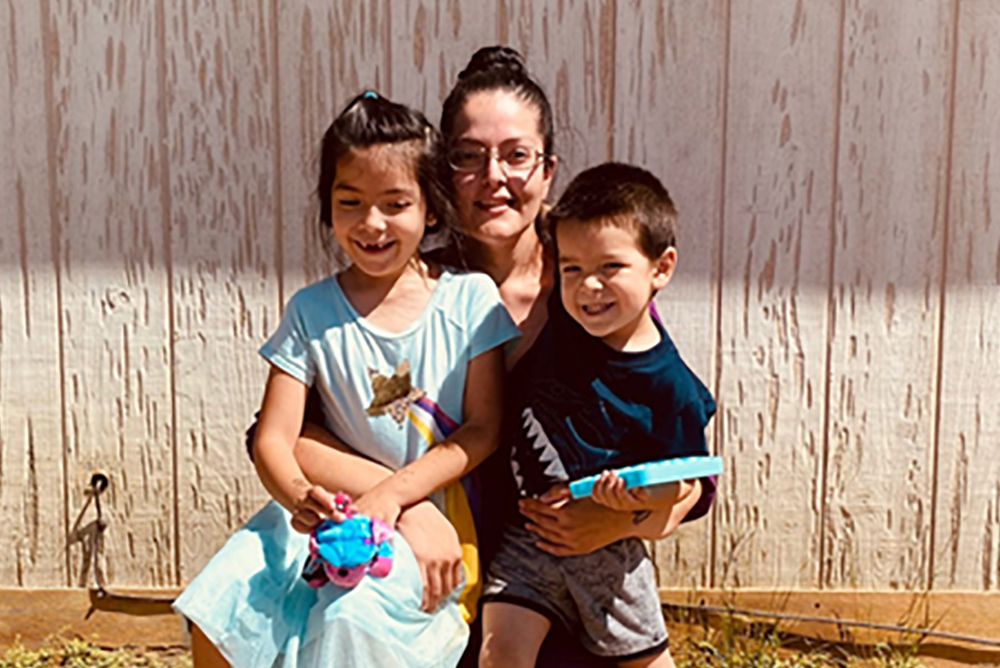 ---
(left photo) X3 Coach Amarisa Barboa (r) celebrates with her daughter Ofelia (middle) and her mother Adriann Barboa (l) at the young parent graduation ceremony at the Explora Museum in Albuquerque, NM. [photo by Alayna Bowman]
(right photo) Sandra Chavez, X3 young parent intern, poses with her two young children in Taos, NM. Sandra says, "After losing myself to the beautiful chaos of parenthood, I now use these skills at home. I'm forever grateful for this boost of confidence." [photo by Ali Moore]
---
X3 intern Brenda Parra was paired with AJ of MECA Therapies who mentored her on career opportunities while boosting her confidence as a leader inside her own household.
"AJ made me realize what a great mother I was to my kids by learning to work on myself and putting myself out there," Brenda said. "She made me realize that my children don't see only the things I do, they see the things I am doing to better myself. Someday they will have the motivation I have to learn new things, making them better human beings."
Since the onset of the pandemic, Future Focused has seen the powerful impact of shifting our paid internship approach toward group internships. Ali Moore, Director of Social-Emotional Learning and Well-being, said, "The group dynamic allows  young parents to foster a sense of community, while also building valuable employability skills and growing their social capital with other professionals."
The relationships between the interns and ECECD mentors have continued months after the internship concluded. They now check in on each other regularly and give updates on their children.
ECECD Cabinet Secretary Elizabeth Groginsky said, "This innovative new program is a fantastic way to build young parents' skills, develop powerful peer leaders in the community, and create engagement with the families who are most impacted by our policies."
Ten cohort members also graduated with a facilitator certification through the Abriendo Puertas/Opening Doors program, qualifying them to become parent-teachers and leaders within their communities.
The AP/OD program was critical in building the young parents' confidence. Sandra shared that even though she's been doing the work of parenting for a few years now, she still struggles with doubt and uncertainty. "[The AP/OD program] created a safe space for us to have support, motivation, and information to be a role model for our families. Thank you for creating this safe space to voice my concerns and thoughts."
The newly graduated young parents are now empowered to teach AP/OD programs to other parents in their communities, spreading more confidence and power to their peers. 
"When parents are more involved in their communities and schools, their children perform better and are more likely to pursue higher education," said Adrián A. Pedroza, National Executive Director of Abriendo Puertas/Opening Doors, "which improves socio-economic status and the economy at large."
---